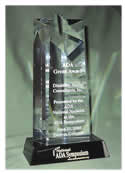 Disability Access Consultants (DAC) is the 2010 recipient of the ADA Green Award, presented by the ADA National Network at the ADA Symposium in Denver, Colorado on June 21st.
Disability Access Consultants (DAC) offers a full continuum of accessibility compliance services and software to assist business and public entities in compliance with local, state and federal laws and regulations.
As one of the nation's largest consulting firms specializing in accessibility compliance, Disability Access Consultants has earned a reputation for providing low cost, effective barrier removal solutions in an easy to use format.
DAC was formed in 1998 to assist public entities in compliance with the Americans with Disabilities Act, and related accessibility requirements, regulations and standards. DAC has offices from coast to coast to provide nationwide services to our customers. All of our accessibility specialists are trained in federal and state regulations.